ERPS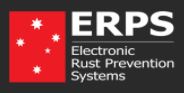 Australian owned and operated
ERPS is proud to be Australian. We design, develop and manufacture all our systems at our facilities on the famous Gold Coast. A land of extreme contrast, Australia produces some of the harshest environmental conditions on the planet and is therefore the ideal environment to develop our product. Designed, tested and manufactured in Australia, for the world stage.
Established
ERPS has been designing, developing and producing its electronic rust prevention systems from our Gold Coast, Australia facility since 1996. Both the product range and the base of satisfied customers in Australia and around the world continues to grow. With 2019, ERPS celebrates 25 years of in-house manufacturing, proudly providing a quality "Australian Made" product.
Reputable
Thousands of satisfied customers, both in Australia and Internationally, continue to build on ERPS's reputation as World Leaders in the Evolution of Electronic Rust Prevention. Even customers who use ERPS in the toughest of conditions like commercial beach fishermen, lifeguard fleets, the department of Parks & Wildlife, and the Mining Industry are more than happy with the results of our systems.
Dedicated
ERPS is dedicated to the evolution of our technology. By continuously refining our systems we keep abreast of advancements in electronics and strive to meet the diverse needs of our customers. ERPS continues with an R&D program dedicated to improvement of the current product and expansion of the product range for new and different applications . ERPS is committed to delivering the most effective, environmentally friendly and state of the art system available in the marketplace today and tomorrow.
Guaranteed
All ERPS systems are covered by a comprehensive 10 year product warranty ensuring the product is free of defects in materials and workmanship throughout this period. For the local Australian market this warranty also includes a 10 year vehicle corrosion warranty* (see here for full details). Our systems are backed by strong after sales service and technical support. By encompassing not only manufacturing but also design and R&D in house, ERPS has the technical expertise and product knowledge to answer any inquiry.
Certified
To provide our customers with peace of mind we ensure our systems conform to all applicable standards. Our systems are certified to Australian/New Zealand and European electro-magnetic compliance standards, guaranteeing the system won't interfere with on-board computers, two-way radios or other electronic devices. All systems are built to ISO 9001:2000 manufacturing and procedures ensuring a quality product every time.