It's crazy how much sugar is consumed these days. And while we love it we don't like what it can do to our bodies. We made our beef jerky in the most healthiest way possible while still packing it full of flavour and with that beef jerky punch.

Passionate about quality, the great taste of our award winning beef jerky is made using 100% Australian premium grade beef which we select under the strictest Australian standards and from some of the best properties across Australia. With our background incattle farming and butchering our expert meat choices ensure a top quality, great tasting beef jerky.

All our beef jerky is Gluten Free and so low in sugar and salt. You'll find no MSG in our products, but packed with protein! We don't use colourings or perservatives because we believe the healthiest snacks are made in the most organic of methods.

At Butchermans... we aren't just beef jerky, we ARE BEEF JERKY!
Five Awesome Flavours
BUTCHERMANS ORIGINAL
The Original ridgy didge... where it all started. A beef jerky made right the first time so why change! Using 100% Australian premium beef, honey soy spice glaze, salt and cracked pepper creating a ripper original blend.
BUTCHERMANS HOT CHILLI
Using 100% Australian premium beef our Hot Chilli jerky took a while to perfect, with countless hours of testing... even the cattle dog helped out, eating over a kilo of the hottest of the hot, hot, hot chilli jerky made! But being a typical Aussie... still wanted more!
BUTCHERMANS SWEET CHILLI
Using 100% Australian premium beef our Sweet Chilli beef jerky is made using a power punch of sweet thai chilli spice glaze, salt, and ding dong... red bell pepper. Every bite brings you back for more, It's just like being on the beaches of the Whitsunday Islands on a perfect summers day!
BUTCHERMANS LEMON, GARLIC & PEPPER
Using 100% Australian premium beef our Lemon, Garlic & Pepper flavour is seasoned with our lemon, garlic spice glaze, topped with cracked pepper and salt. This inviting flavour was brought on by the better half (the wife) wanting a flavour with a twist. Thanks honey! What a fair dinkum beef jerky!
BUTCHERMANS AUSSIE BBQ
Using 100% Australian premium beef our Aussie BBQ flavour is seasoned with our secret formula double smoke spice glaze, soy sauce and a lil bit of salt. I brought this flavour to a family bbq years ago and when it was gone before the prawns I knew it was a winner!
Available in 40gram packs and 200gram Mega packs
Nutritional Info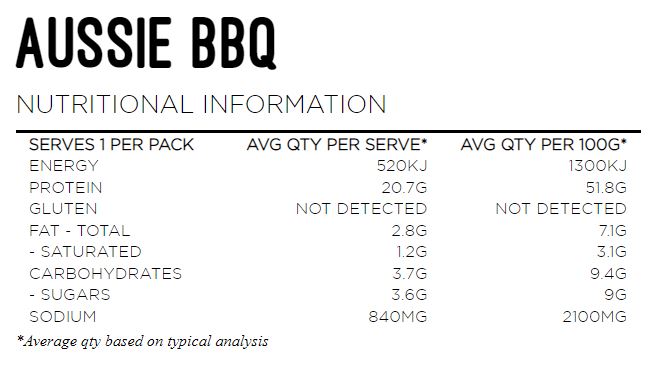 | | |
| --- | --- |
| SKU | BBJ |
| Brand | Butchermans Beef Jerky |
Be The First To Review This Product!
Help other Sinister Offroad users shop smarter by writing reviews for products you have purchased.